Why opting for PlanningPME Mobile?
Possibility to
reassign tasks
of unavailable workers to the rest of their teams.
In the train, set up your unavailabilities.
On a plane, check and
edit your schedule
.
Locate your teams
at anytime for travel optimisation.
Receive e-mail notifications
of incoming new tasks.
Book a meeting room
within a few clicks.
Manage your resources
on your ongoing projects.
You can now take your planning anywhere with you daily and in any situation.Your schedule is always within close reach! Whether you are manager, commercial or technician you can finally view and change your schedule in real time from your smartphone or tablet.
Schedule anytime on your iPhone, iPad and Android mobile
With the mobile application of PlanningPME, the upcoming technology powers your scheduling. Optimise your activity with this everyday tool. Check and edit your appointments, business trips, projects, and every other task assigned to all of your co-workers
Whether you are working on PC, Mac, iPhone or tablet PC, your scheduling information are updated and shared by all the co-workers. No more oversights, you are now warned of the slightest modification by the notifications.
For 9 € /month and per device you can acquire this new high-end irreplaceable program.
Using PlanningPME Mobile means greater efficiency, and greater business.

Customise the display of schedule
Multiple views of the planning are available: daily, weekly or monthly schedule.
Select the planning to display relevant information. Scroll right or left to change the day and display a date in the future or in the past.
Improve visibility of your timetable switching on the landscape mode. Schedule resources easily filtering only specific resources on your smartphone.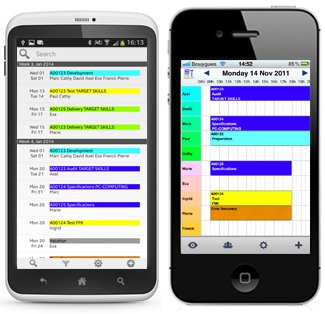 Localise your employees
Want to know where your employees are at any time? With localisation, you know precisely on a map where your employee is and you can optimise routes on real-time.
Also, when a technician terminate his work, his position can be saved on the schedule. He can also change the status of the task to change it as "Completed" so that the color of the appointment is going to change to notify visually the planner.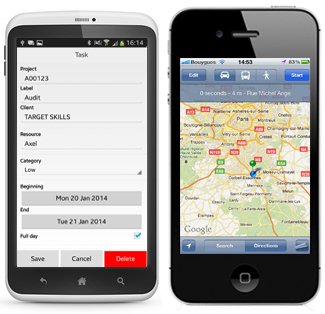 Enjoy the electronic signature
Thanks to the electronic signature, no need to bring your missions sheets along with you. At the end of his appointment, the engineer can ask the client to sign directly on his mobile phone or tablet. The signature is then automatically saved on the scheduler.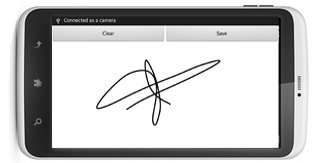 User Guide PlanningPME Mobile
Discover the mobile planning through our PlanningPME Mobile user guide