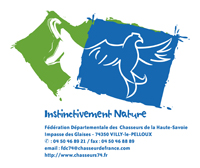 Company Overview
The Departmental Federation of Hunters of Haute-Savoie is an association approved by the sector of environment. It represents the interests of the 8000 hunters of Haute-Savoie and its main mission is to coordinate and train hunters and their communal associations, to take part in the management and protection of wildlife and its habitats, as well as to contribute to the safeguarding of the natural environment.
Country:

France

Website:

Activity:

Hunting

Schedule uses:

Leave management, room management, schedule planning, appointment management, staff planning
Our scheduling needs
When reaching over 10 employees, the management of our planning with Excel was no longer adapted to our needs.
So we looked for a software able to gather various mandatory data for our internal working: planning of the tasks, analytical management of the working time, management of the absences, recoveries, permission, room and headquarters booking, management of the agendas. We have been using the software since 2011.
Simplified management of the availability of employees
Each employee has a personalized account and fills in his schedule on a daily basis.
The unavailabilities are planned and recorded ahead, which makes it possible to visualize very quickly the present collaborators and ensure management of the permanence of the headquarters and the progress on the various topics. At the end of each month, precise analytical boards are edited according to the needs: summary statements of the hours to be recovered, time dedicated to the different issues, aso...
We are very satisfied with the PlanningPME software, which has become an essential tool for planning and managing as well as reporting on our internal operations, with a team that is very reactive to our demands.