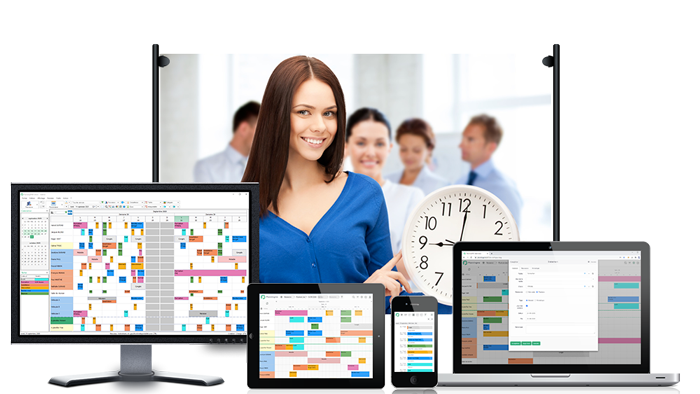 Time management
Manage your employee shifts and vacations easily!
A common solution to all your employees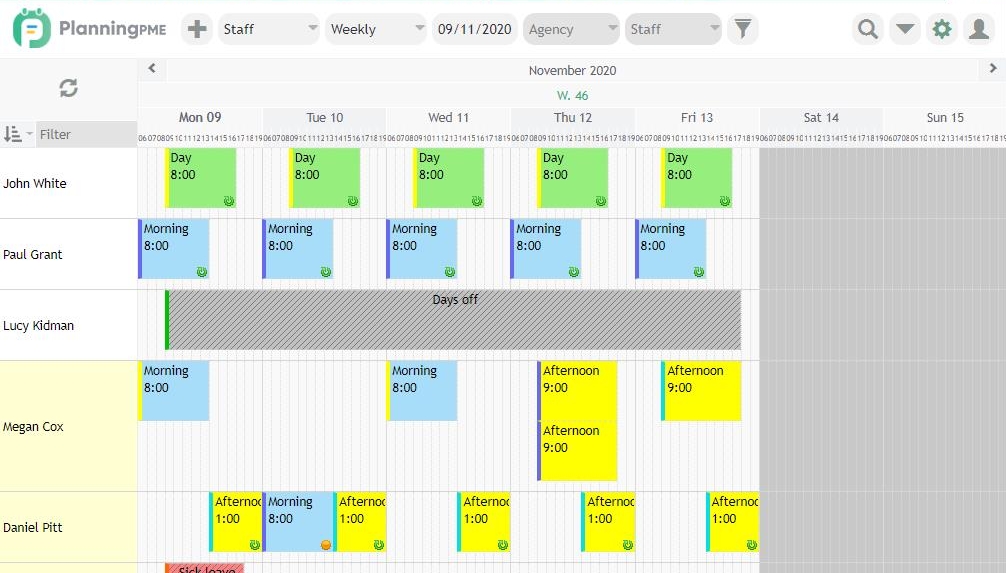 Eliminate scheduling conflicts and create your schedules rapidly assigning shifts to your employees with just few clicks. Manage multiple locations, skills and availability of your resources via a user-friendly planning board. Create rotating shifts with no more timesheet errors.
Enjoy the benefits of time management software
Recurrent bookings
Vacations and days off
Print
User rights
Planning conflicts management
Time management is simplified
Manage your employee shifts and vacations of in just a few clicks. You can also manage any kind of absences (vacations, sick leave, public holiday, compensation…) and thus optimise your staff workload.

With PlanningPME time management become a piece of cake: you can customize the time profiles for each employee, manage team rotations, see in real-time who is to be found in the company, who is out of office and who is offsite.
Efficient time management enables productivity increase by centralising all data in just one planning accessible by managers and employees.

Furthermore all data are stored in the planning history. In any doubt, finding the right information at any time is really easy. Last but not least, reporting and statistic tools allow you to export your data anytime.
Before we started using the PlanningPME software, we were managing our scheduling using Excel and it was very difficult to see the whole week, month or year for each of our employees or for all our employees simultaneously. Since we have been managing the employees' schedules with PlanningPME, we have saved a lot of time.

LudiQ'Land
Patricia P., Deputy Site Manager
Ludiq'land

Ludiq'Land facilitates the reception of its customers thanks to the optimised management of its employees' schedules
AMB Sécurité Services

Managing security guard rotations and schedules is now easy for AMB Security