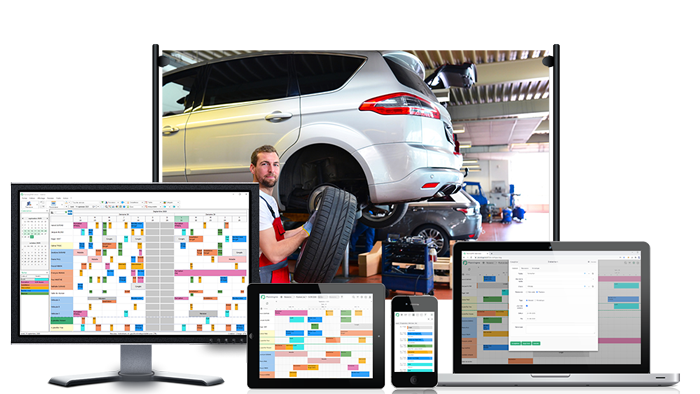 Schedule of a workshop
Manage the schedule of your interventions, technicians and vehicles easily
The ideal solution to manage interventions to be carried on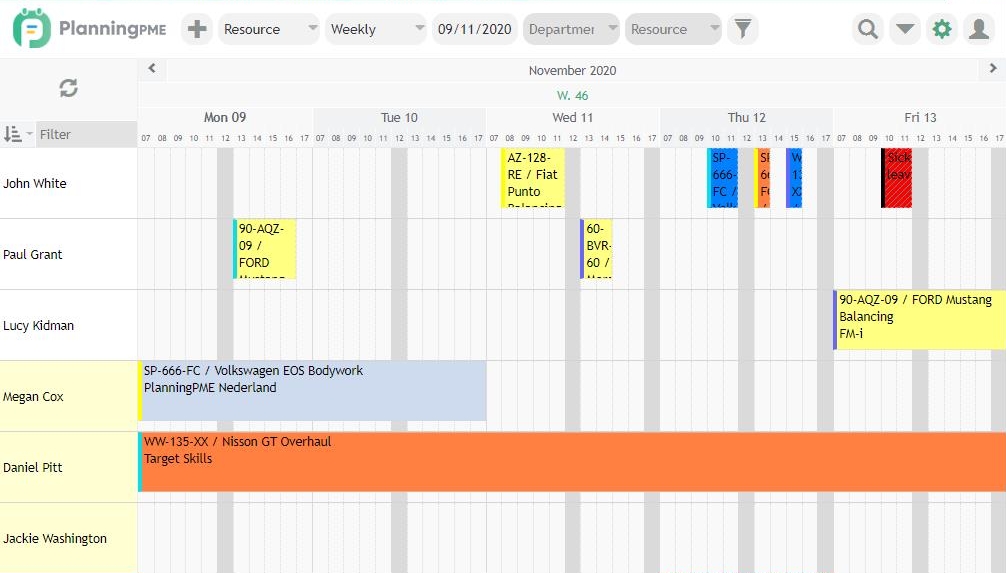 Improve efficiency by working with a repair center schedule updated in real time. Plan repairs to be performed on your vehicles, schedules and absences of your technicians and manage your car loans.
Optimise the planning of your engineers and cars
Customer management
Filters
Recurrent bookings
History and follow up
Workload
Eager to manage your car repair center or workshop?
PlanningPME can help make your garage organisation better. From repairing to installation and cleaning, assigning jobs to your technicians can be done in just some clicks.
Your business will be managed and monitored within a single highly intuitive and fully customizable schedule. You'll get a snapshot of ongoing repairs and repairs to come, on available courtesy cars and on technicians allocated to a task. Just send an e-mail to confirm an appointment setting to a client or to let him know him that his vehicle is ready for pick-up. On top of that, you can also manage all your customers and suppliers. Moreover, all of the history of all the interventions on vehicles is saved. You can also assign repairs on vehicles according to the skills of your technicians and check their availability at a specific time. Last, but not least, to enhance information sharing, schedule can be shared on a network and you can print the operational agenda for the day or the week and display it in your workshop for example.
Concerning scheduling: this is a generic tool that I have been able to adapt very easily to the automobile market. I haven't been able to fault its reliability or find any functioning errors after one year of use. The only points for improvement relate to entering the client and merging them with the vehicle and then deleting them, as well as copying tasks that I would like to link up.

MERCEDES - BENZ Concessionnaire Paris
Didier B., After-Sales Manager
Reda Automobiles

Reda Automobiles centralises the management of appointments and vehicle repairs thanks to shared planning
Lambert Tranports

Lambert Transports manages the planning of drivers and the allocation of vehicles
M. DUCRET SA

Mr Ducret manages the planning of removals and transport
SARL MBT

SARL MBT uses planning to manage the rental of vehicles with drivers