Getting started with your on-line planning and scheduling system
Since its creation in 2002, Target Skills has developed planning tools which are used today by more than 5,000 clients around the world in sectors such as construction, administration, industry, etc.
This manual enables starting right away with your PlanningPME Web Access on-line planning system.
Advantages of online scheduling
With PlanningPME Web Access, not only can you schedule the activities of your employees by assigning tasks to them, but you can also plan more effectively your meeting rooms, equipment, projects, appointments and meetings.
Wherever you are, 24 hours a day, a simple Internet connection gives you access to your on-line planning system from remote devices: PC, Mac, Smartphone, etc.
Universal workstation access
Permanent on-line access to your schedules
An improvement in remote  collaborative working 
Secure data on powerful servers
Attribution of an  id and personalised encrypted password.
Simultaneous consultation of your employees' diaries
Fully functional service including:
7 day a week round the clock connection via Internet
access to technical assistance by telephone and e-mail
regular application updates
daily back-ups with 7 day archiving
Hosting can be two ways:
The database is hosted on your server. : Onsite version
The database is hosted on our server. : Cloud version
List of supported databases: 
MS SQL Server: version 7.0, 2000, 2005, 2008, 2012, 2014 (& Express Edition)
MySQL: version 4.0 à 5.0
Logging into the software
Cloud version
1 - With any website page by clicking on the login link
2 - With the URL directly : https://www.planningpme.com/my-account
Onsite version
Click the web link and enter your user name and your password. According to the rights defined for each user, the access to the schedule will be restricted in reading and editing. Also note that the language can be changed from the icon "globe" located at the top-right side of the window: French, English, German, Dutch, Spanish, Italian or Swedish.
Presentation of the interface
Get started quickly with the online scheduling software!
Learn how to use the menus and features available in your planning software to effectively manage your human and material resources on a daily basis.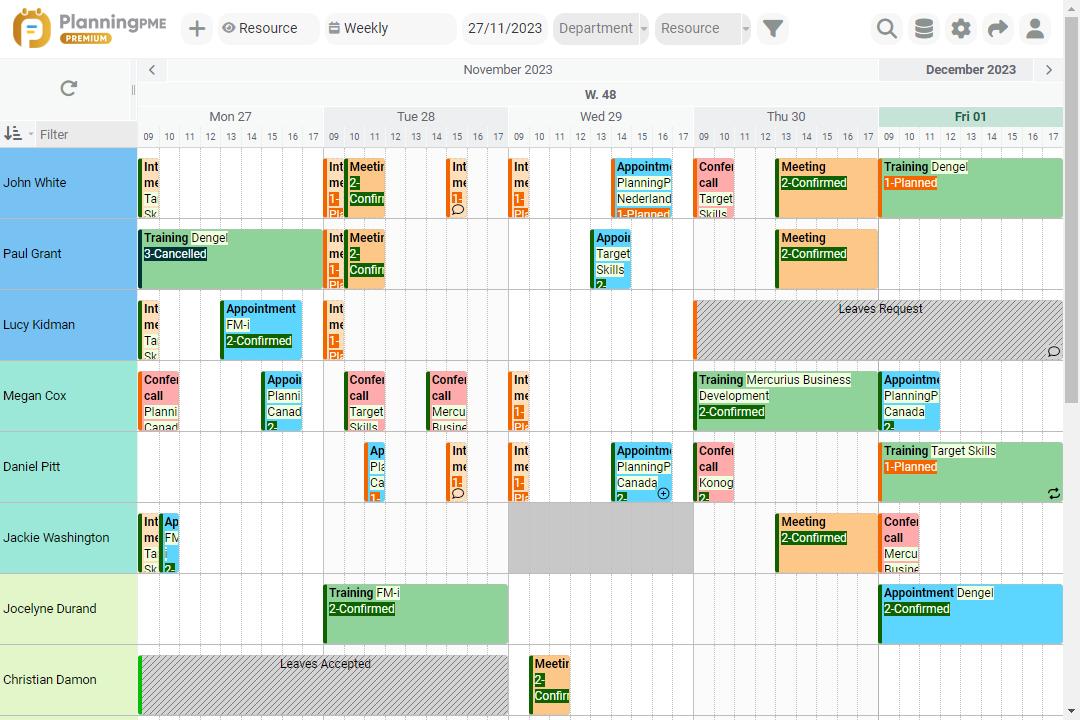 Return to the schedule : Click here to go back to the schedule page.
Views by planning type: resource, client, project or list
Agenda view, view suitable for smartphones and tablets
Changing the time-scale from the drop-down menu
Choosing the date from the calender
Changing the time-scale from the toolbar
For ease in finding information, numerous filters are available within PlanningPME Web Access: filtering staff assigned to a department, filtering resources by skill.
The menus
Data Menu : Initialising planning data
Initial parameters can de set for all fields in the scheduling system using the "Data" menu by clicking on the triangle icon:

.
Menu Tools : Initialising planning data
Advanced options and functions can be activated by clicking on the "Tools" menu icon - the cog-whee
Description / Selecting information displayed or distributed
Labels and Formats
Days Off : Initialising the unavailability counter
Public holidays
Reports : Creating Excel reports
Print
Options
licence : Information on licenses
What's New? : List of evolutions
Help : User guide
Invite : You can easily invite users to the schedule.
User Profile
My profile
user : change user with associated rights (only in account mode)
Language : change the language of the application
Date and time formats
Minute step to set the minute interval when selecting the start or end times of an event

Change password : Each user can change his password
My dots
My calendars
Logout : Logging off from the schedule and PlanningPME account
Planning space: creating events and absences
Vocabulary used in the planning software
What is a human resource? 
A human resource is a human being: Employee, manager, technician, etc.
What is a material resource?
A material resource may be: a meeting room, a vehicle, a computer or any other kind of equipment the use of which you wish to manage.
What is an event?
An event is a mission or a work item to be carried out by a human or material resource. An event is represented in the schedule by a coloured rectangle. An event may be: a meeting, a technical assistance operation, an appointment or any other mission that is particular to your business activity.
What is an unavailability?
Unavailability arises when a resource is unable to be used, for example, for reasons of absence or breakdown/maintenance. An unavailable human resource may arise from planned holidays, sickness, maternity leave, time off in lieu, etc.
What is a "To plan" resource?
A "To plan" resource is a kind of Post-it. This attribute is given to any task that cannot, for the moment, be assigned directly to a human or a material resource. In effect, this creates a list of activity items waiting to be assigned.
What is a department?
A department comprises a group of human and/or material resources. A department may be for technical, administrative, sales activities, etc. In addition, a filter is available in the scheduling system enabling planning by department.
Import your data into the planning tool.
Easily import your own data to quickly get to grips with the operation of the planning tool and manage your staff, customers and projects.